12 Jun

How to find the best dog trainer for your canine friend?

When it comes to dog training people often have a lot of questions. For instance, what is dog training? What kind of training does the dog need? How will the sessions take place? How will it help the dog? Etc.

However, the first question that needs to be asked is how to find the right trainer for your canine friend? We know you love your dog and therefore such concerns are completely normal.

Dog training is an unregulated industry which means that anyone can hang a board outside their property and become a dog trainer. It can get even more complicated when a part-time dog-trainer uses the word behaviorist for marketing to make it sound more sophisticated and convincing to the clients.

To make things easier for you, we have devised a checklist that can help you make the right decision for your dog and choose the right trainer.
Personality
A person who loves dogs will always have a kind and respectful behavior towards animals and people. When it comes to dog training, experience, and knowledge is secondary, the primary element is the personality. A dog trainer will always guide how to take care of your dog and help you get better at it. In short, rather than pointing out what you do wrong, he or she tells you, what can be done right. A good dog trainer is always patient and clear and believes that there are stupid questions.
Source: https://www.listsworld.com/wp-content/uploads/2019/04/pic-3-1.jpg
Education
Being good with animals is good but getting the right education from a prestigious institute is also a matter that cannot be taken from granted. Like human psychology, dog training also requires both theoretical and practical understanding of the dog's behavior. It takes time for a dog trainer to become better at their job. Normally, trainer-training programs last for nearly 6-weeks but most of the learning comes from hands-on experience, informal and formal apprenticeships, attending seminars, and reading. Be sure to inquire about the trainer's training and years of experience, it is your right to do it.
References
When it comes to choosing a trainer for your dog, always prioritize references. You can easily ask someone in the park walking the dog or a veterinarian. Both can be extremely useful and will give you a sense of assurance that you are making the right choice. Client's references are often highly recommended because they are unbiased and neutral and have fewer chances of not meeting the expectations.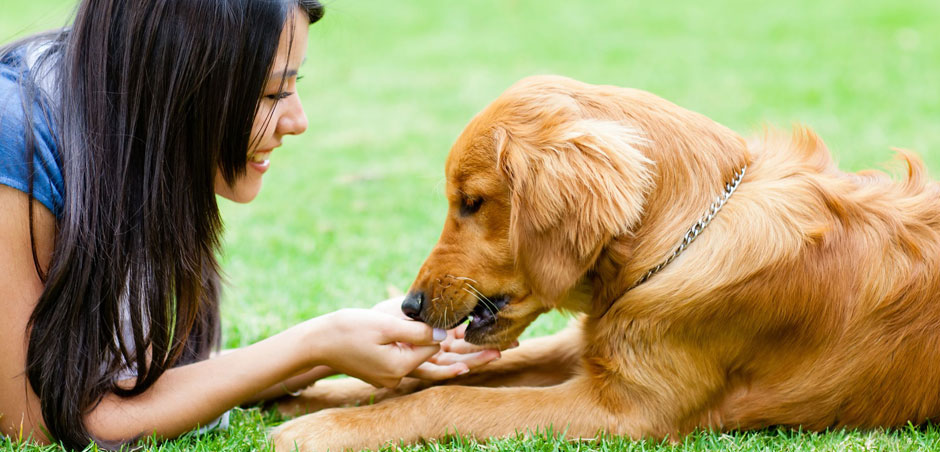 Source: https://www.justhunters.pk/image/cache/catalog/article/Dog%20Training%201-940×452.jpg
Bottom Line!
If you are looking for a dog trainer that understands your dog's needs and also help you understand them, then visit A Dog's Path today and discuss all your concerns and queries with the best dog trainers the industry has to offer. With more than 18 years of dog training experience, we provide the best in-home dog training so that your learning can also be catered simultaneously.